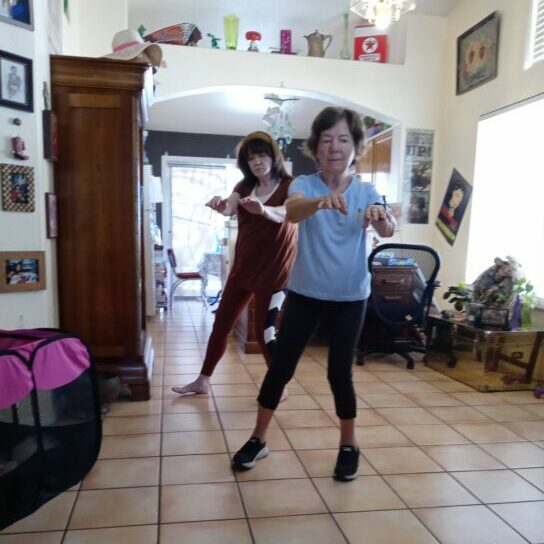 Sensei Doris Fong, a Sifu of Tai Chi of the Yang Style
Sensei Doris Fong, a Sifu of Tai Chi of the Yang Style, is well known in Las Vegas, as was her husband Bill Fong (Ng Wai Kun).  Doris visited China twice, once before the Great Wall was renovated, and then again with her husband to visit not only great monuments but his home village of SHENG PING CUN.  They were honored by his family and allowed to visit his ancestral homes, even though the communists had taken them over.  Firecrackers blazed before them everywhere they went to scare any devils away. They honored ALL of his ancestors' graves, and their bones.  In an AMAZING display of affection and honor, they were gifted with bowls from the Ming Dynasty that had belonged to Bill's family for many generations.  They were brought home with them to be passed along to their beautiful children.
During her life, Sifu (Sensei) Doris Fong not only traveled and raised successful, beautiful children, but she and Bill ran two of the most iconic diners in downtown Las Vegas.  Anyone who was anyone ate at the Mayfair Diner on 15th and Fremont, and then at the Huntridge Diner inside of the Huntridge at Charleston and Maryland Parkway.  On any given day, one would see senators, supreme court justices, district court judges, justice of the peaces, all the way to mobsters having their lunches happily at Bill and Doris's restaurants.  In fact, the Mayfair Diner was one of the first restaurants my mother, whose CCR (Court Reporting Certificate) No. was 8, ever had the pleasure of eating in in Las Vegas. Sensei Doris now lives in the very popular Downtown neighborhood with her dog, Tai Chi.
Last year in 2021, I became deathly ill for over four months, I was sick unto death. I then buried five persons whom I loved dearly in that year, four of whom were in their twenties. I did not believe I would survive. Because of the loving care of my Alena Liggins, my great grand niece, and my daughters, I survived, but not only was it their loving tender care. Once I became well enough, I enlisted the help of Sensei Doris Fong, the Tai-Chi Master and local author, whom I had met at a local book signing event. She has helped nurse me not just back to health but back to a strength I have not known since I was young and in Sensei Gaviola's Dojo, studying under them and Master Richard Kim in Daly City. For this, I am eternally grateful.
I plan to travel to Japan when they open to honor the temple of Butokukai and to bring my daughter to her ancestors' temples of the Mayeda Clan and the Nagano Clan in Sensei Doris's footsteps. If God wills it, we will do so.